We Know New Homes



Let us put our industry-leading new homes experience to work for you


The Beran Group has worked with numerous builders throughout the past 25 years in the areas of representation, land acquisition, marketing, and sales.
Bel Arbor Builders
Biringer Builders
Boddie Noell Development
Creative Home Concepts
D.R. Horton – America's #1 Builder
Eastwood Homes
East West Properties
Finer Homes
Hill Homes
Innovative Builders of Midlothian, LLC
Main Street Homes
Orleans
St. Clair Homes
Terry-Peterson Companies
We have helped hundreds of families buy new construction homes. Whether you are a builder or a home buyer, let us show you how we can help you realize your goals.
---
Who we are
Since 2004 Kristin has run one of the top teams in the Richmond Region. Her success is built upon a business philosophy of unwavering ethics, a commitment to the client's best interest at all times and a never, never, never give-up attitude.

Together Kristin and her mother Sherry have represented many different builders in Richmond, ranging in size from Sole Proprietor to D.R. Horton, the largest builder in America. They have sold new construction homes of every type, ranging in price from $200K to $2MM.

Through strategic advising, marketing, relationship-building, and staffing, we help builder clients exceed their sales goals.

Kristin is currently President of the Richmond Association of Realtors, and serves as a member of the Board of Directors, MLS Committee, Legislative Committee, and Finance Committee.
Cindy has over 25 years experience focused in the new homes arena. She has assisted builder clients on talent acquisition, land development, marketing and sales efforts. She has been recognized by the Home Building Association of Richmond as Sales Manager of the Year, Marketing Executive of the Year and Associate of the Year. Additionally, her marketing efforts were recognized by the National Association of Home Builders with a Silver Award for Marketing Excellence.
Her client portfolio has included Main Street Homes, Finer Homes, D R Horton, Eastwood Homes, Biringer Builders Bel Arbor Builders, Creative Home Concepts, East West Properties, Boddie Noell Development and a host of other builders/developers throughout central Virginia.
Cindy has served on the Board of Directors for both the Richmond Association of Realtors and the Home Building Association of Richmond. She is an associate broker with Shaheen Ruth Martin & Fonville Realtors and an active member of the Beran Group where she spearheads the teams' efforts in builder relations and land/lot acquisition.
---

New Homes Special Projects
Homes are our passion, and we welcome the opportunity to participate in special projects all around Richmond. The Beran Group has been actively involved in several keynote home events, including the Southern Living Showcase Designer Home, the Richmond Symphony Designer House, Richmond's Builder Fair, and the Richmond Homearama Show.

Richmond Homearama Official Real Estate Sponsor 2021-2023
The Beran Group was proud to be the Official Real Estate Sponsor of Richmond Homerama 2021 at Summer Lake in Chesterfield. The two week event
welcomed 12,141 guests looking for new homes and inspiration.
We are excited to be the Official Real Estate Sponsor for the 2022-2023 Richmond Homearama series, and in the years to come.

Southern Living Magazine's First Richmond Home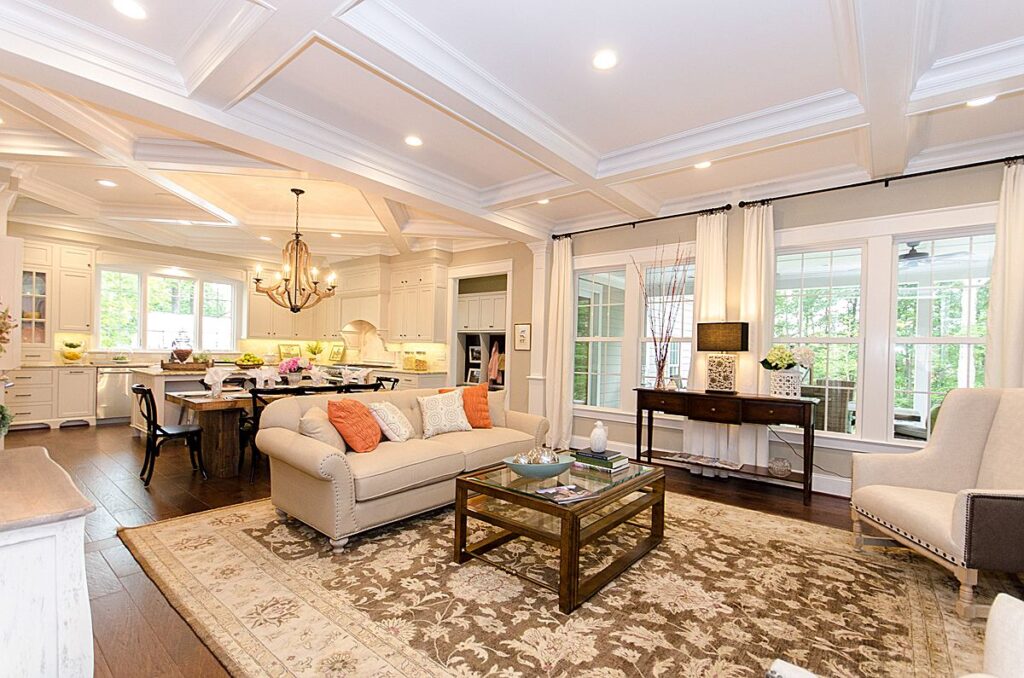 The Beran Group represented Creative Home Concepts, Richmond's only Southern Living Magazine Custom builder and one of only 6 in all of Virginia. Straight out of the pictures of the magazine, this beautiful home oozes Southern charm. This was the first Southern Living Showcase home built in Richmond, and contributed to Hallsley being consistently recognized as one of the best communities in America.

Beran Group Builder Fair
Located at Hardywood, the Builders and Brews builder fair brought the best resources in new construction under one roof. The event was open to both Realtors and the general public, and served as a great resource for both prospective homebuyers and industry professionals.

Richmond Symphony – The Designer House
The Beran group represented Joe Hill of Bel Arbor Builders, for the Richmond Symphony Designer House in Hallsley. The Hampton Manor featured 24 of Richmond's top interior and landscape designers, each taking a space to show-off their talents. Approximately 6000 guests visited this showcase home, with all proceeds from ticket sales benefiting The Richmond Symphony


(804) 873-8782
Homes@BeranGroupHomes.com

5808 Grove Ave
Richmond, VA 23226
Agents are licensed in the Commonwealth of Virginia