The Richmond area is home to a plethora of types and styles of architecture dating back to when colonists arrived. Many of these styles of architecture take root from the colonists' European descent. Depending on what part of the city you are in—and when it was built—will often determine the particular style.
The Fan and its row houses take many cues from early European row houses, known today as townhouses. As reconstruction spread westward from the city's core, you can see how the styles of architecture changed with the times.
There are endless types of architecture with many variations, so let's take a look at some of the most common styles you will find here in Richmond.
Colonial Architecture
Colonial architecture has its roots dating back to colonists who were looking to mimic the traditional style of their home country.
There are several types of colonial architecture in Richmond due to the melting pot of colonist roots in Richmond, like Spanish, Dutch, and British (Georgian). Each variation has its own distinct style.
Dutch Colonial:
Dutch Colonials have a barn-type pitched roof with an overhanging 2nd floor. This gambrel-style roof provided the attic to be used as living space. This style of roof continues to be used throughout architecture today.
Top neighborhoods for Dutch Colonials
The Northside neighborhoods of Bellevue, Ginter Park, and Sherwood Park all have perfect examples of Dutch Colonials.
Spanish Colonial:
Spanish Colonial tends to use a smooth stucco exterior, and beautiful arched windows and doorways. Of course, the most prominent feature is the rich, Spanish terracotta roofing, as shown below.
Best Richmond communities for Spanish Colonials
The Spanish Colonial is probably one of the easiest to spot no matter where you are in Richmond. Monument Avenue, the Near West End, Ginter Park, Maymont Park, and Libbie and Grove are just a few communities where you can find a Spanish Colonial.
Georgian Colonial
A Georgian Colonial can often be recognized from its red brick, hipped roofs, center-hall front doors with a transom, symmetrically laid out 9- or 12-pane windows, and (in some cases) matching chimneys on both sides of the home.
Transoms (as seen above) are windows placed above and sometimes beside a door in a front entrance. Sometimes they are called side lights because of the light they bring in from the front. Hipped roofs have 4 sides that all slope upwards toward one center beam. Usually, the roof has a low pitch.

Richmond neighborhoods for Georgian Colonials
The Near West End, Three Chopt Rd, and the River Road Corridor are the most common places to spot these stately beauties.
Tudor Architecture
The Tudor style uses both Medieval and Renaissance motifs and design cues. It is popular in Europe, especially during the reign of King Henry Tudor VIII. (Hence the name Tudor.)
This style has characteristics such as steeply pitched roofs, stucco and beam structures, mixed with herringbone brick exteriors. Tudors tend to also have tall, mullioned windows (mullions are the thin pieces of wood or metal used to create window panes in windows) tall chimneys, overhanging first floors above porches, and dormer windows. While they originally used thatched roofs, today it's typically made from slate.
Where can you find the Tudor style in Richmond?
If you are a fan of the Tudor style, be sure to check out Monument Ave, and the Cary Street Corridor.
Greek Revival Architecture
With its stone-fluted pillars and columns holding a 2-story front porch, this style is easy to recognize. It's quite grand and just looks like Greece. There are lots of variations to the materials since marble and stone are quite costly. In Richmond, this style is usually recreated with wood or cast iron columns. Ornate facias and carvings are usually at play as well.
Contemporary Architecture
Contemporary architecture may be one that is unfamiliar to many. It's a 21st-century design where no one style of architecture is dominant. The style typically uses different and mixed materials, asymmetrical designs, uniquely pitched roofs, concrete, steel, and other more modern materials.
These areas have the most Contemporary architecture in Richmond
Although Richmond's architecture leans mostly traditional, there are pockets of Contemporary homes spread throughout the region. Developments like Brandermill on the Southside to Raintree in Short Pump feature Contemporary design, as well as infill homes and townhomes in The Fan and Church Hill. Basically, the style can be found all over.
Transitional
The Transitional style of architecture is easiest described as a mix of traditional elements with more contemporary, modern components. A perfect example of a Transitional home would have a mix of modern materials like metal, concrete, and stone applied on a more traditional framework, with modern windows in a farmhouse style. Another very popular style is to paint the traditional brick façade in a darker hue.
Finding Transitional homes in Richmond
Richmond's outer ring of suburbs—developments that are on the newer side—feature this Transitional style. Communities like Hallsley, RounTrey, and Summer Lake are just a few communities where you can find this more modern style.
Ranchers
The Ranch, Rancher, or Rambler is a style that is very common in the Richmond area. It's a style that actually originated in the United States. It's a long profile, spread-out, single-story home that typically has sleeping quarters on the opposite end of the living, dining, and kitchen areas.
Made popular in the post-war era of the 1940s thru 1970s, the Rancher's simple construction that was easy to mass produce made it perfect for returning veterans. Today the Ranch style has been rediscovered as people begin to downsize or age in place.
Look here for Ranchers in Richmond
Check out Stratford Hills' Oxford neighborhood, and almost any neighborhood dating from the 50's and 60's in any county of Central VA.
Split-Level / Tri-Level
Like the Rancher, this style became popular after WWII through the 1980s. As the name suggests the Split-Level has a split set of 2 or 3 sets of stairs typically in the center of the home with a lower level featuring a family room or possibly a bedroom/bath and storage area. The main level up one flight of stairs has a living room, dining room, and kitchen. Then up the second split stair, you have the sleeping quarters with three or four bedrooms depending on the size. Occasionally, there's a 3rd split stair up into what would be an attic area or another bedroom.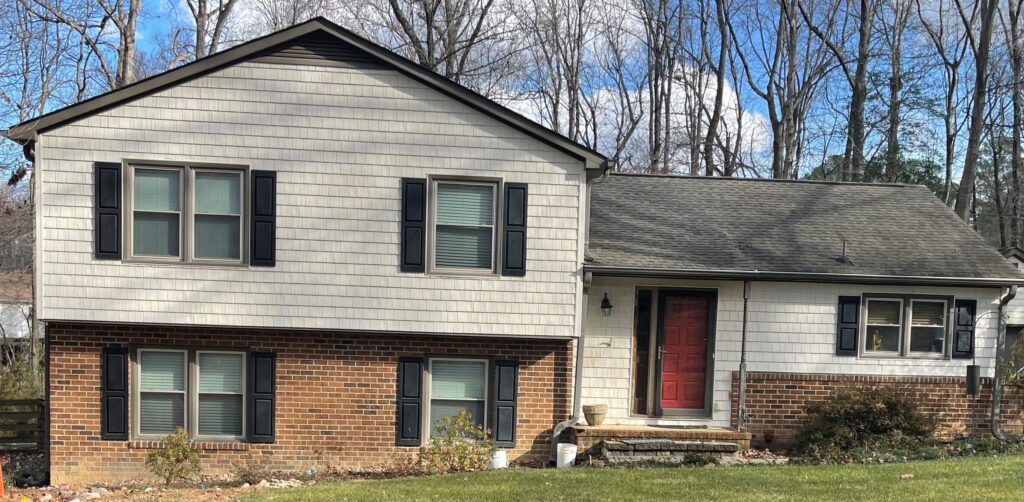 Looking for a Split-Level home around Richmond?
The College Hills area, and—on the Southside—Bon Air neighborhoods offer a wide selection of both Split-Level and Ranchers.
This style is also quite popular in all the suburban areas of Richmond. From the Southside to Hanover and Henrico's East and West Ends, it's hard to not run into a Split-Level in any suburban neighborhood in Richmond. Depending on when they were built these homes can still have traditional millwork and materials, but they can also be contemporary as well.
Mid-Century Architecture
The Mid-Century style was a movement that begin in the US and in Europe in 1949 through 1969. It was a significant design movement that was in line with the characteristics of the modernist movement. These homes are typically modern in style and construction, with clean and simple lines, with low pitched or even flat roofs. The use of glass to incorporate the indoor/outdoor feel is also very prominent.
The best areas to find Mid-Century homes in Richmond
Here in Richmond, this style can be hard to find. A prominent local architect and apprentice of Frank Lloyd Wright, Frederick "Bud" Hyland, did a lot of work in this style. Hyland's work is all around town. On the Southside there's a little-known development called Highland Hills in Bon Air. (Highland Hills is not related to Bud.) This entire development of more than 80 homes is crafted in the Mid-Century style.
American Foursquare
The American Foursquare is probably one of the most common styles to be found all over Richmond—from the West End, Forest Hill, Westover Hills, and all across the vast Northside of town.
It was the antithesis of the Victorian and Revival styles it followed. Whereas the Victorian is grand and ornate, the Foursquare is plain, simple, and easy to mass produce. Typically, with a center entrance and a symmetrical façade with 2 to 4 windows on the 2nd floor and matching windows on the first floor.
The Foursquare typically has a 4-room-per-floor layout, hence the name. Three bedrooms on the 2nd floor with a bathroom, and the main floor would have the living, dining, kitchen, and mud room or pantry/storage room. In many of these homes today that extra room is converted into a bathroom, or pantry—or has been expanded for more kitchen space. A Foursquare typically has a front porch and one single dormer in the attic.
These are the best neighborhoods with Foursquare designs
Some of the most classic spots to find a Foursquare are in Ginter Park, Battery Park, Bellevue, and Woodland Heights.
Finding the right style that fits your personality
With all these options to choose from, the process of finding the right home can seem overwhelming. But this is one of many reasons to work with a seasoned Realtor®. I have a proven track record of matching the right style to the client. And I would love to help you find the right home that fits your needs. And I'm always ready to talk design!
A transplant from Ohio, I have been in Richmond since 2009, and in Real estate since 2017. An accredited buyers and sellers rep, I have a passion for helping my clients find the potential value in their home. From full renovations to light redecorating, I have gained a reputation for being extremely knowledgeable in all aspects of real estate transactions and home renovations.
Prior to being an agent, I worked as a project manager for a luxury bed linen and furniture company. There I managed national retail store remodeling, relocation, and closing/openings, along with assisting as lead designer of all trade show events.
My passion for design and years of experience have helped create my unique perspective in real estate. My business is 100% referral based. If you or anyone you know a has a question about real estate or home design feel free to reach out.
Mair Downing is the editor at BeranGroupHomes.com. She oversees the development and creation of all of our articles, so if you like them, be sure to let her know!

Mair is also an amazing Realtor with The Beran Group. She's never met a stranger, so it's no surprise if you feel like old friends after the first meeting. Mair is passionate about helping sellers and buyers navigate the sometimes complex world of real estate. She is experienced in helping clients buy, sell, invest and rehab-to-sell. Mair is a born problem solver and relationship builder, which helps to make transactions go smoothly!
Other articles you might like